On Baking Scones.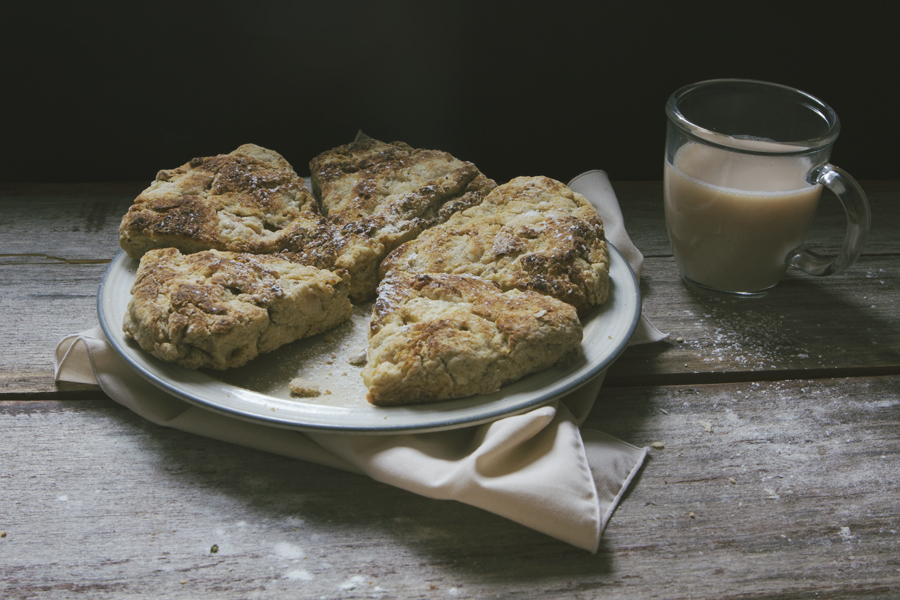 photograph courtesy of Emily
But our scones did not turn out quite as proportionate as the ones in the recipe photograph. Rather, ours were lumpy and large; pear crowding pastry in a battle to dominate the cookie sheet.
As we baked together, the heat hummed, radiating from the baseboards of the dining room. In the past, she's only been to visit me in the evenings, and I was glad to let her catch a glimpse of the house when it is bathed in natural light and afternoon warmth.
The scones, heavily spiced with nutmeg, cinnamon and ginger, took twenty minutes to bake, and as we waited, we sipped china cups of mango pear white tea and browsed cyber Monday sales, ogling glass electric kettles and brown leather shoulder bags.
Our high hopes were not dashed. The scones were sweet and buttery; they simply weren't pretty.
And if you have lingered around these parts for any amount of time, you know that I am constantly giving myself the pep talk, that "pretty and perfect" are not necessary for something to be wonderful.
I would have taken pictures of our lumpy, tasty scones to post here, after chiding my vanity, but husband took all that remained with him on a business trip yesterday, and there simply aren't any left.
Next time, I am adding more a bit more butter for extra flakiness and dicing the pears smaller than directed. Perhaps I'll even splurge on Cardamon. Perhaps.
Thanks for the afternoon, Helen.